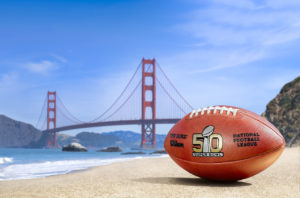 For all of you sport travelling gals, you know it's that time of the year again. Superbowl Sunday is almost here. And, it's an iconic one…Superbowl 50. I was so excited to be part of Superbowl Blvd  and I'm thrilled to witness Superbowl 50. There's a lot going on with this year's Superbowl. Ron Rivera may be 1 of 2 Hispanic coaches to win the Superbowl, Cam Newton is setting himself up to be in a league of his own in the NFL or maybe Peyton Manning will be ending his career on a high. It's a lot of awesome stuff going on here. But, if you're lucky enough to see the Superbowl live in action, then there are a few places you need to check out while you are in San Francisco.
First of all, you can't go to San Francisco without going to the Golden State Bridge. You will can walk it, ride your bike or take the bus across the world's famous bridge. Then, make sure you head over to Ghirardelli Square, home of their chocolate factory along with events, local shops, restaurants with an incredible view. After that, make your way over to the Walt Disney Family Museum, an interactive and animated museum that goes beyond the theme park and into the life and legacy of Walt Disney. Next, mosy on over to the Fisherman Wharf, the most famous attraction in San Francisco for shopping, seafood and Ripley's Believe It or not. Afterwards, it's a must to see Lombard crooked road, the most unique road around. Lombard street is so steep it'll give your heart a healthy boost. And, of course, you have to be part of the Superbowl talk at SAP Center and then go to Levi's stadium to see the game.
Last year's Superbowl, I mentioned I was going to go to see the Superbowl up close and personal. Well, those plans are still in the works. For this year, I'm going to enjoy the fun camaraderie with my friends and family. So whether you are hosting the Superbowl or going to a Superbowl party, I hope you just have fun! Take care and let me know who you are rooting for.
Hugs,