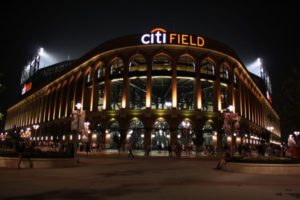 Attention all of my sports travelling gals, one of NYC greatest attractions are the sports stadiums. Some of the most amazing moments happen at those stadiums. I can contest to that…I have seen Andre Agassi last tennis match at Billie Jean King National Tennis Center, the famous Serena Williams vs. Venus Williams match up at the Louis Armstrong Stadium, the NY Giants vs. NY Jets rivalry football game at Metlife Stadium, Derek Jeter last games and the Yankees clinching their 10,000 win at Yankee Stadium and of course the 2015 World Series at Citifield. Now that the baseball is in full swing, heading to Citifield and Yankee Stadium should be on your "must do" list. Why? Because, these stadiums are jammed packed with things to see and do which creates a whole new experience. It isn't just a ballpark anymore!
First of all, before the game starts you can hang out at Mcfadden's (sports bar attached to Citifield) and eat some appetizers and toast to a win. Afterwards, take a walk around the stadium and check out the de facto walk of fame, autograph corner and don't forget to take pictures at the magic apple A.K.A home run apple. And, if you can't get enough of the Mets great ones, then once you are inside the stadium you can check out the hall of fame and museum off to the right in Jackie Robinson Rotunda. When you are done with your history lesson, you need to go to the private clubs, the Delta Sky 360 club, Foxwoods and Porsche grill are nice and fancy with plenty of good food to eat but the Promenade club has the best tasting food in a cozy and relaxed atmosphere with an awesome view of the baseball field.
Where to sit and eat at Citifield? Well, I'm glad you asked. There really isn't a bad seat in the stadium however the best seats are on field level, particularly the Delta suites (where your food is served to you at your seat) and Honda Club (where there's huge food buffet, snacks, desserts and an open bar package included in the price of the ticket).
And, where to shop? haha…I knew that would come up. Well, the Mets team stores in the Rotunda or on the Promenade level have a little of everything from shirts, caps, bumper stickers and more. But, if you want a bit more piazza, then you need to check out New touch by Alyssa Milano ladies boutique. You'll find a great collection of shirts with a classy woman's style.
Now off to Yankee Stadium. What to do? Well, before you head to your seat,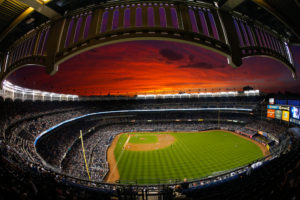 you have to see the Yankee museum. It's a really cool sports museum honoring the history of the New York Yankees. The main features are the "ball wall" (hundreds of autographed baseballs), showcase of World Series trophies and a rotating bird's eye view of Yankee Stadium. And, you can even take a picture of yourself in front of a locker with name in lights…..it's really neat. I tried it! Next, you have to go to Monument Park. It's an open-air museum showcasing a collection of monuments, plaques and retired numbers of great Yankee players.
If you want to mingle and hang out with friends, then you must hit up the private clubs. The 1893 club is a modern and sleek sports bar with loads of TV's everywhere and a great view of center field. For a little more class, the Audi Club is the place to be. It's a bit more upscale with an awesome view of the outer field along with private seating and buffet….talking about watching the game with comfort. For even more comfort, there's always the Club suite, these luxury suites have their own private lounge area, bar, premium food and drinks and concierge service…that's the way to watch a baseball game!
As far as eateries around Yankee Stadium, you know there are burgers, hot dogs and fries everywhere. But if you want more of the sit down restaurant scene, then you have a choice of the Hard Rock Cafe near gate 6 and just above the Hard Rock is NYY steakhouse. And, the Legends Suite Lounge is the premier fancy sit down restaurant.
Where should you buy your Yankee shirts, pocketbooks, bracelets and all the other good stuff? Great question! There's a really nice Yankee women era store right behind section 114A. And, right outside the store is a statue of Derek Jeter, which is a perfect spot to take pictures.
So, if you are coming to New York, then hit those stadiums. You won't be disappointed. I promise! I've been to plenty of games and love still the experience. If you been before, I would love to hear your thoughts. That's it for now.
Hugs,