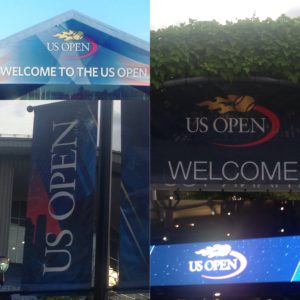 Is it just all about tennis? Well, yes and no. I say yes because it's the tennis championships on the biggest platform. Yet, I say no because walking the US Open grounds  is enough to keep you busy without seeing a single tennis match. So, if you are going to the US Open this year, then you should check this out.
If you are an American Express card member, then you are in luck. When you walk in, you'll see a big pop-up booth that looks like a tennis ball. As a Amex card member, you'll have access to some cool stuff such as free tennis lessons, comfy lounge areas to watch the tennis matches on a big screen TV, complimentary hand massages, free charges for all smart phones, plenty of refreshing cloths and of course cocktails and good food to eat (those aren't free but try the Panini. They are delicious).
Once you leave that booth, and then head over to American Express other booth across from Arthur Ashe Stadium. There, you can pick up a free fan that plugs up into your phone and an earpiece that give you live US Open action and updates. And, you can take your picture on couch made out of tennis balls. It's pretty cool.
Right next to the stadium, you'll find the ESPN booth. You can watch live coverage and hear experts' opinions and comments about the players. Next door is the Mercedes Benz booth. You'll see the latest and finest Mercedes on the market. It's great to check out and take some pictures to make your friends jealous. Around the corner is the Citizen Watch booth. You can play interactive screen games to win some free prizes….I'm glad I won. 🙂 
And, of course, there are plenty of eateries like the Heineken red star cafe which gives a sports bar vibe and the wine food  bar, where you can enjoy Mediterranean food prepared by a popular chef and sip on a glass of wine at the same time. Both places will give you a great view of US Open grounds. You can't miss out on dessert because there are Ben & Jerry ice cream stands everywhere.
Now, you have to go shopping to savor your US Open experience. Lucky for you, there are lots of vendors, stands and shops to buy all of your souvenirs from hats, cups, backpacks, shirts and more! (I got an awesome t-shirt with the NYC skyline on it. Perfect.) And, don't forget to watch some tennis. After all, that's the main reason why you are going.
Talk to me and let me hear you thoughts! I want to hear all about our US Open experience. Until next time, live and love life.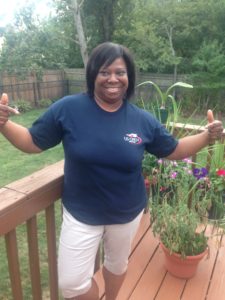 Hugs,