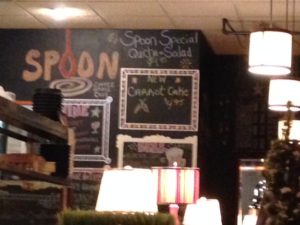 What to do on a Saturday night? Good question…there's so much to do, especially in the NY area. Well, we decided to head out to a coffeehouse and eatery called Spoon in Lindenhurst village. I haven't been there before but I was excited to check it out.
Spoon is what you'd call an "old school coffeehouse and eatery." It may be small in size but it has a lot of character and charm. The unique decor gives off a relaxed and cozy feeling. There's sheer red curtains intertwined with clear lighting, cute coffee and tea cups paintings on the wall, decorative lamps on the small tables and chalkboard menus written in bright colors. And, my favorite spot, the seating area with the comfortable couch and pillows is the best.
Now, let's talk food. For starters, we ordered the spinach artichoke dip. It was warmly served with tortilla chips and a hint of Spoon's secret recipe. We moved on to the homemade bacon tomato and cheese quiche and I had the pomegranate green tea and Eileen had a hazelnut coffee. And, of course, we couldn't leave without Spoon's signature dessert, S'more's, which is served with chocolate, marshmallows, graham crackers and a flaming fire…awesome! Last, but not least, I have to give props to our server, Lindsey who gave us great service with a smile.
Well, the food wasn't the only thing drawing people into the coffeehouse. The live entertainment by the band, UnWined, performed a crossover of country and pop music with their drums and guitars. The band was on point and gave the café a nice ambience. I have to say, it was a good Saturday night out. Kudos to Spoon!
So, if you're in the area, then i would suggest for you to check out Spoon Coffeehouse & Eatery on 125 S. Wellwood Ave, Lindenhurst, NY 11757 or you can call them at (631) 957-7666 to found out about the live music entertainment. Okay, tell us your thoughts and leave us a comment. And, make sure you facebook, tweet and share this with your buddies. Until our next adventure, it's a wrap for now!
Hugs,