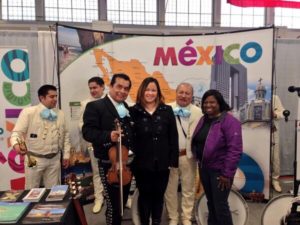 In the last couple of weekends, we've been travel expo hopping. Travel expos are so much fun. Your heart can wander and dream of all the wonderful places you want to visit. Like most travel expos, you'll hear the mariachi band singing, Caribbean music playing in the background, Disney characters walking around and pictures of beautiful beaches hanging up all over the place. It's so easy to get captivated into another world. But, remember, it's a smart and silly way to "travel expo shop." You have to go to the expo with a game plan. If not, then you'll be mesmerized by everything you see and be inundated with information overload. You'll end up walking out of the expo with a bag that weights a ton and a bunch of catalogs and brochures that'll clutter your house. And, you don't WANT or NEED that at all! So, let's be "travel expo savvy."
First of all, give yourself enough time to browse at all the places you want to vacation. If the timeframe of the expo is 10am-5pm, then don't show up at 4:30pm and run around like a chicken with your head cut off. Make the most of your time and give yourself enough lead way to check things out.
Have a general idea of the places you want to vacation and go to those informational booths first. If you don't do that, then you'll find yourself "oohing and aaaahing" over every beach poster plastered on the wall. You don't need to spend too much gathering information about every place on the earth and miss finding out about the places you really want to visit. I learned that lesson at my 1st travel expo. When I went to the cruise line's booth I really wanted to talk to, they were packing up their information and getting ready to leave the expo. I missed out on speaking to them because I spent too much time wrapped up into everything else.
It's a sore subject…..but, it's a good idea to bring a credit card to book at trip. I know you want to just look and get ideas. However, you'll find ridiculously discounted vacation deals that may be too good to pass up. I came across an awesome Las Vegas deal……4 days and 3 nights in a 4 star hotel including airfare for $439.00. With a $75.00 off coupon, the total price of the trip cost $364.00. Right now, flights to Vegas cost over $600.00 alone. I would say it's a good deal! But, here's the catch….I had to book the vacation deal at the show. So, be ready to take advantage of those deals. It's a great way to see the world without burning a hole in your pocket.
Take advantage of the representatives at the booth. You might not like salespeople…..who does? But, in this case, don't avoid or be afraid to talk to them. Let them do the legwork and research for you. It'll save you a lot of time from sitting in front of your computer figuring things out. They can tell you the best time to visit, the differences in prices and layout your ideal situation. Get the inside scoop from someone who knows!
And, make sure you enter the vacation getaway sweepstakes. You never know, you may just win a free vacation. Of course, the sweepstakes is a ploy to get your information but you have the choice to unsubscribe from the mailing list. However, if you don't win the free vacation, then you'll probably get opportunity to receive a really cheap vacation. I just registered a cruise to the Bahamas for two people for 4 days and 3 nights including airfare for less $200.00. Although I didn't win the "grand prize", I did get an awesome deal to the Bahamas.
As you head out to the travel expo, keep these 5 tips in mind. You'll find yourself productive in booking trips without draining your wallet. Also, it'll give you an opportunity to scout out unique places you didn't think about visiting…..like New Zealand and Fuji Islands. And, lastly, the travel expos give you something to inspire for and look forward to in the future. Leave a comment below and tell me what you think! Until then, happy travels!
Hugs,