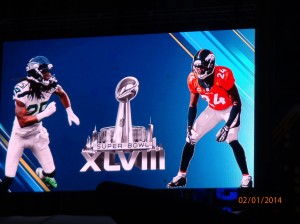 First things first, Happy Groundhog Day! The groundhog saw his shadow, which means 6 more weeks of winter. For a New Yorker like me, I'll have to keep my winter coat around a little longer 🙂
Well, today the big hoopla is the "Big Game".  In less than an hour, a large amount of people will be watching the Super Bowl. And, of course, billions of chicken wings will be eaten. But, let me ask you? Are you ready for the game?
You see, getting prepared for the game means different things for different people. Depending if you are hosting the Super Bowl party or attending a Super Bowl party, getting ready for the game will consist of doing activities….
If you are like me and hosting the Super Bowl party, then you probably made an ideal menu in your head, went to the supermarket before it got really crowded, cleaned the house, prepared the food, set the food spread across the table and now you are sitting back and waiting for your company. I don't mind because I love the camaraderie.
However you celebrate the Super Bowl, I hope you have fun and enjoy the game. Go Seahawks!!! Leave me a comment and tell me your thoughts.
Hugs,